Today's Featured Item: Pug/Porch Mug -- mug

North Country Wind Bells, a manufacturer based in Maine, offers handcrafted metal nautical-related & garden items including Wind Bells, Garden Guards and Hose Guards.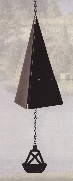 Each North Country Wind Bell® is based on the founder's, Jim Davidson, interpretation of the gong and bell buoys in the areas for which they're named. Because of the wide variance in their tones, his groupings have resulted in single, double and triple-toned bells. Each is reminiscent of the magic he experienced on the water. A special bell, the Island Pasture Bell®, is based on the dulcet tones of sheep and cattle bells common on several Maine islands where Jim and May once pastured their own sheep.
Quality materials, fine workmanship and family pride ensure that these rugged bells from North Country Wind Bells® will endure to become individual family heirlooms. Even hung far from the ocean, their response to a gentle breeze carries pleasant reminders of ocean swells and the constant vigil sounded by coastal and harbor bells.
Construction: Every North Country Wind Bell® is shaped from a high grade steel known as Cor-Ten®. It is widely used on bridges, guard rails and buildings because it requires no maintenance. These characteristics make it ideal for North Country Wind Bells®, which are designed to hang outdoors year-round, and will not twist, tangle or break. As they weather, the steel turns a rich rust color. This natural oxidization doesn't signal a deterioration of the bell, since Cor-Ten® will never flake, peel or rust out. Instead, it tempers with age, creating clearer, more resonant tones. This patina both preserves and improves a bell's tones over the years.
Maintenance: In a year or two, sometimes sooner, depending on the environment, North Country Wind Bells® will begin to take on a weathered appearance. This rich, emerging patina of rust can be made deeper and more lustrous with an annual rubbing of plain salad oil. Or, if you prefer your wind bells to remain black, they may be given a quick spray of flat black metal paint. Either way, they will endure outdoors, year-round, for a lifetime.
Cor-Ten is a registered trademark of the USX Corporation.
Browse all of our North Country Wind Bells selections
selections by category:
MallCarts.com
gifts and crafts for any occasion
email:
info@mallcarts.com